Tips to Plan an Excellent Bachelorette Party!
Bachelorette parties are definitely one of the big To-Dos in a bride's planning leading up to the big day! The big send off into the married life needs to be a memorable one as it is the last hurrah for the bride. So whether you are a maid of honor in charge of everything or a bridesmaid lending a hand, put on your party hats…oops…thinking caps and start planning!
Bachelorettes are incomplete and impossible without a few fun party supplies so have a look at what you need:
Invitations
Once you prepare the guest list, work on the invitation designs as you need to come up with something exciting and intriguing with an element of mystery to keep others guessing till the last moment.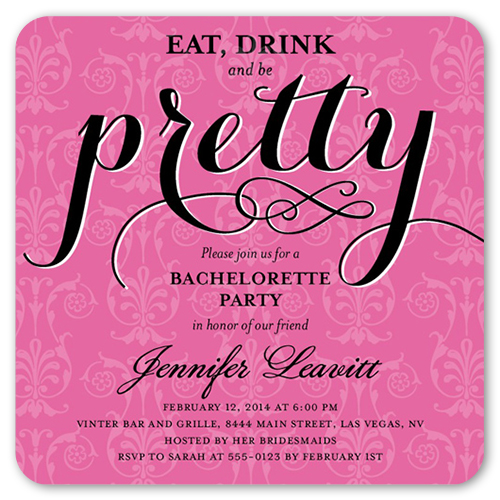 Opt for a classy or glamourous invite by using cursive fonts and you are ready to send these out to your beautiful bridesmaids! I'm sure everyone will be looking forward to a great day out together!
Decorations
A bachelorette party won't seem right without the perfect decorations. Most parties are usually held in the comfort and privacy of a home or a hotel room these days. Decorate the venue with a huge banner that says "Bridal Shower" to get everyone in a happy mood upon entrance!
Or if you're in a more adventurous mood, fill the venue with caution tape so as to give it a mysterious and dangerous feel!
Then take a Diamond Ring Air Filled foil and use it as a décor item or an addition to your gift. It is air filled, sealed, and on a balloon stick that can be removed for convenience. It can be stuck to other objects for decorative purposes too.
A Wedding Bride and Groom Airwalker is a great idea – it is a massive 48 inches and seems like they are literally floating on air – guarantees loads of laughter for sure.
Balloons have also become popular at bachelorette parties and it is easy to see why – it works whether you have a sophisticated or sassy theme.
You could buy holographic mylars with a ring as motif, kissy lips shaped ones, "Bride to Be" mylars, or something in a gold or emoji heart balloon form. These are inflated with helium and last for long hours during the party night.
Don't forget latex balloons too! These help to set the venue in a nice ambience for celebration! Opt for pink and black for the usual bachelorette colours or choose colours that the bride likes!
Wearables
Bachelorette party is a special night for the bride and she should feel and look totally special. Doll her up with a tiara and a sash to differentiate her amidst all the pretty ladies so she'll command special attention from everybody!
Here are some ideas of tiaras and badges and sashes!
You can even get sashes for Team Bridesmaid too!
Activities
Games are the best way to kick the party into high gear. You can play trivia games, Truth or Dare, Never Have I Ever, How Well Do you Know the Bride?, and many more. You could come up with some innovative games of your own as well. If not, look at these bachelorette party games for a quick fix!
Or if taking photos and keeping memories of the night is the bride's thing, opt for some photo props to make the photos funny and memorable!
Bachelorette parties shouldn't be organized just for the heck of it – the idea is to enjoy and show appreciation for your dear friend who is about to begin a new chapter in her life. Good parties take a bit of time and effort, so it is advisable to get started without further delay!